Manasa Kanithi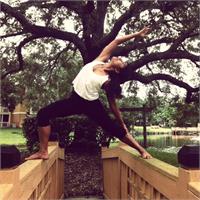 Manasa is an RYT-500 certified instructor. Her journey with yoga began at the tender age of five and that was the birth of her passion for health and the human body. Manasa graduated from the University of South Florida Honors College with a major in Classics (Ancient Greek/Latin Studies) and a minor in Chemistry. She carries a Certificate in Ayurvedic Studies and is currently studying Aging and Neurosciences.
Manasa has volunteered extensively with various non-profit organizations both locally and abroad in the areas of community development, disaster relief and food justice. Her travels to over 15 countries and passion for health and volunteer experiences continually reconnect her what it means to truly accept and love oneself and to make the world a healthier happier place by first beginning from within. Her enthusiasm for world cultures and medical sciences inspires her teach from a place of compassion and joy to foster self-exploration, self-acceptance and unconditional love.
Manasa also holds certificates in Yin Yoga, Prenatal with Jacci Gruninger, and Divine Sleep Yoga Nidra with Jennifer Reis and has studied with various teachers including Karin Stephan, Larissa Carlson and Tim Feldmann.
Manasa Kanithi instructs the following:
This is a slower paced class designed to allow students who are new to yoga {or haven't been in a while} to familiarize themselves with basic yoga poses. There will be heavy emphasis on alignment and proper breath technique. Students are encouraged to ask questions during class.

All Levels • Temperature: 76°-78°

Great for: Strength • Flexibility • Toning • Stress Reduction• Cultivating Inner Peace




Start your weekend feeling energized, focused + calm. This class is designed to ease away the stress from your week with conscious breath work, poses to build strength and longer stretching poses to relieve tension. While some vinyasa/flow elements may be incorporated into the class this is not a classic vinyasa/flow class.
All Levels • Temperature: 76°-78°
Great for: Strength • Flexibility • Toning • Stress Reduction• Cultivating Inner Peace